The "gebouwenloop" is a running event on the University of Twente. The start is in the Citadel and the race ends on the 13th floor of the Horst, all without going outside!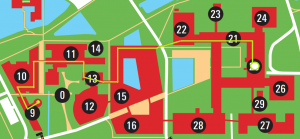 Here you can find a detailed route description (in Dutch)
Gebouwenloop 11 December 2017 !
The gebouwenloop will be organized on the 11th of December and starts at 19:00. Participating will cost 3 euro for early birds before the 4th of December. After that costs are 4 euros.
You can reserve a starting number by enrolling on the website. On 8th of December, during the lunch break (12:30-13:30) you can pay (in cash) for your registration near the enterance of the Horst or Hal B.
For more information or questions, send an email to voorzitter@alohatriathlon.nl