The "gebouwenloop" is a running event on the University of Twente. The start is in the Citadel and passes through Zilverling and Carré till the race ends on the 13th floor of the Horst, all without going outside!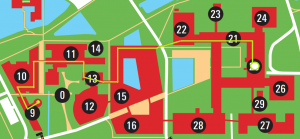 Here you can find a detailed route description (in Dutch)
Gebouwenloop 2020
The next gebouwenloop will (most likely) be held in February 2020. We will provide more information as soon as possible!
For questions or further information send an email to gebouwenloop@alohatriathlon.nl
Registration
The registration has not yet been opened.
The "gebouwenbeest" & team ranking!
After the success of the past few years, the "gebouwenbeest" (building beast) category has been added again this year. We have a separate category for costumed participants, the building animal category. The requirements for dress up clothes are that they are not sport related, furthermore a jury will decide whether your outfit is sufficient to participate in the category or not.
We have a team ranking this year again. You can register in a team of 4 people and the total time of all participants will determine who wins this category. So, do you think your association/student house/ friends club consists of the best buildings runners? Then sign up as a team!
Now also the association category!
A new classification is this year's sports/study association classification. The winning association receives an exchange trophy for this, which can be held for a year. This ranking is not only about collecting the best building runners but also about having the largest possible team. So try to collect as many people as possible for your club if you want to get hold of this special trophy!
Drinks
After the event everyone can enjoy a well-deserved drink. In the Horst cellar you can get one free drink after showing your race number. The price ceremony will also take place here. The winners shall have eternal fame.
Payment
Payment can be made via the payment option indicated on the registration form. If this has gone wrong, contact with the organization can be made via: gebouwenloop@alohatriathlon.nl
Bags
Since the start is in the Citadel and the finish is in the Horst, it may be inconvenient to have your bag still at the Citadel. We will therefore move all bags from the Citadel to the Horst. Please note that this is at your own risk.
Start
The first participant will start at 19:00. From then on, every 10 seconds a participant starts. The start list will be available when it has been made after registration.
Results
After the race, the results will be published on our website. For the results of earlier editions, see the following link.