Alha, new freshmen!
Haven't you had enough of the exciting activities  during your best 1.5 weeks of introduction? (or is the introduction still going in full swing?) And are you

looking for a sporting challenge?  Then you are certainly at the right place at D.S.T.V. Aloha! We offer 3 disciplines within 1 super fun and caring association!
Furthermore we would love to welcome you to our website. On our dedicated Kick-In page you can find a short introduction to our association.  You can also sign-up to get acces to our sign-up sheet, so you can join us for a free introduction training (or three). Sign-up via the link of the inserted document in the footer of this page. The training schedule is also available to be viewed on the dedicated Kick-In page. You can also press on the photo below to get a pleasant supprise!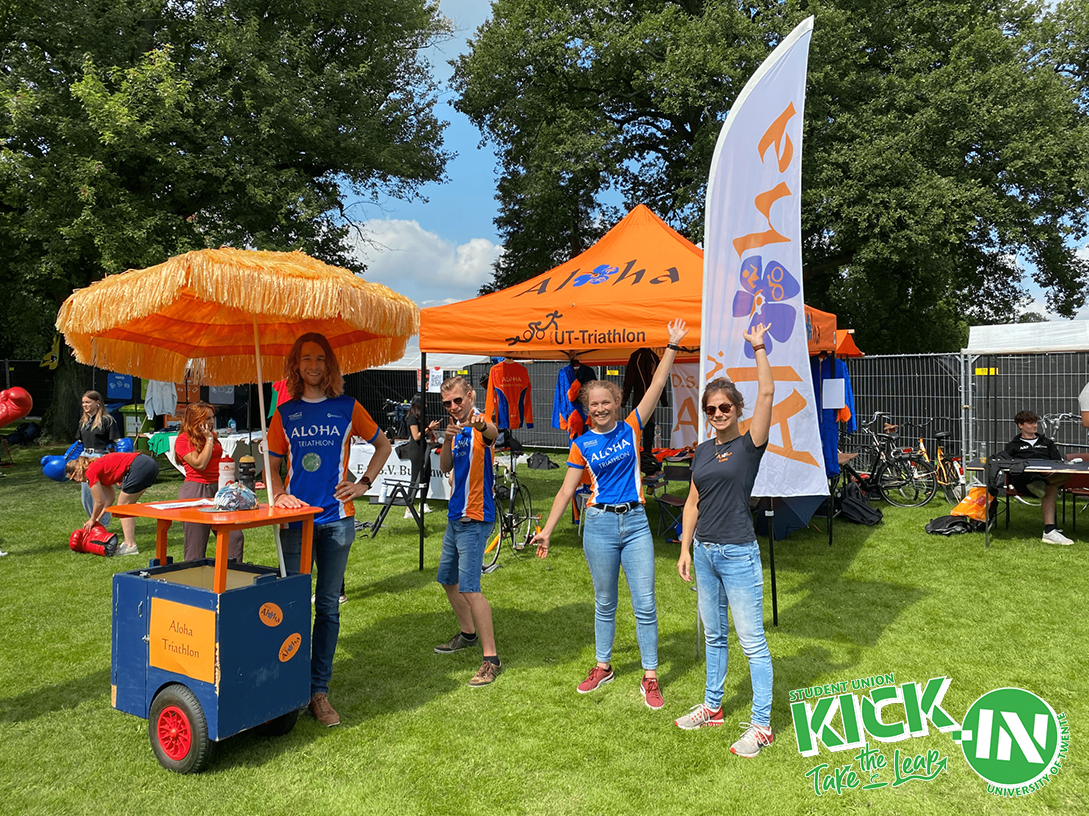 During the Kick-In you can find us at varies places at given times, during the whole 1.5 weeks! Come and visit us, we are happy to have you (turn your phone sideways to be able to view the whole table):
| Dag | Wed 24 August (Make your Entrance) | Fri 26 August (Into the Unknown) | Mon 29 August (Set into Motion) | Thu 1 September (Make it Happen) |
| --- | --- | --- | --- | --- |
| Activiteit | Opening Fair | Sports Day | Campus Fair | Kick-Out Festival |
| Tijd | 9:30 – 15:00 | 12:00 – 16:30 | 11:00 – 16:00 | 14:00 – 19:00 |
| | Kick-off to a flying start at the Opening Fair! After you have registered for the Kick-In, you can discover all the associations, like the sports associations! Aloha will be here to get to know you and let you know what our associations is all about! We will be here with our beautiful stand as you can see in the photo above. | The sports Day is the right place to be when you want to get to D.S.T.V. Aloha better! During the Sports Day you can compete against your fellow kiddos in a mini-triathlon and have a conversation with current members of Aloha! | During the Campus Fair you can get to know us even better! We will be here with our orange and blue colours Aloha stand. This astonishing stand can be seen from far and wide, so you will definitely not miss it when you visit the Campus Fair! | During the last day of the Kick-In (Aaawh it is almost over) the Kick-Out Festival will take place. At this event you can visit us one last time, to get to know what it is like to be a member of the best sports association on campus to date, D.S.T.V. Aloha! Drop by and have fun during the whole afternoon. |
If you have any questions, suggestions or do you want to share your best Kick-In selfie with us? Do not hesitate to contact us! We hope to see you soon!
Greetings from the Kick-In committee,
Dagmar, Tommie & Pepijn